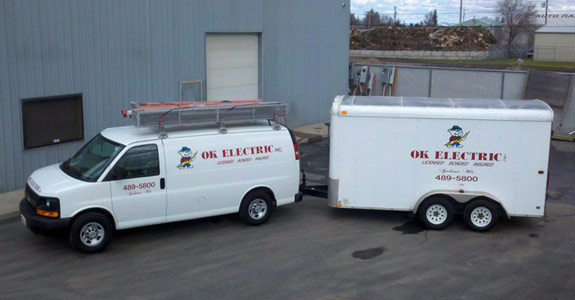 Your Complete Home Solution
As a homeowner, when an electrical problem arises or you have a large electrical project on hand, handling it yourself can be a daunting task. For residential electrical services in Spokane, WA, you want a professional you can trust. OK Electric has enough experience to know how to be cautious and still get the job done efficiently. After all, this is your home and family we're talking about, and you want an electrician that is as concerned about protecting them as you are!
Whether you're in need of electrical repairs or are looking at a new construction project, OK Electric should be your first choice for residential contractors in Spokane, WA. While other electricians may only offer a few quick fixes, OK Electric is a full-service, electrical contractor. We offer a wide range of quality electrical services at competitive prices. Here are just a few of the residential electrical services we offer:
Residential wiring and rewiring: Installing new wiring or rewiring your home can be a daunting task, but a necessary one. At OK Electric, we use our expertise to provide the necessary power to your home safely and efficiently. We take all of the guesswork out of wiring or rewiring your home.
New construction wiring: When you're building a new home, you want a contractor with the experience to come up with a strategic plan for wiring your home. At OK Electric, we specialize in creating a proper wiring strategy to make your new home safe, comfortable, and efficient.
Electrical repairs: When an electrical issue arises in your home, it can be hard to find the problem or know where to start. But when you work with us, we take all of the stress and guesswork out of these repairs. Whether it's a simple fix or involves opening walls and getting into hard-to-reach places, you can trust that we'll take care of the problem for you at a price you can afford.
Residential fuse box, electrical breaker, and outlet repair and installation: These electrical components of your home may seem small, but they play a large role in the electrical functions of your home. It is important that they are installed properly and stay in good repair. At OK Electric, we can help you make sure that even the smallest electrical components of your home are operating properly and safely.
Whether you are looking for residential or commercial electrical services in Spokane, WA, choose the company that has been the favorite of homeowners for over 35 years. For an electrical company that guarantees their residential and commercial work and is known for quality and efficiency, contact OK Electric.